Applications for our Centre for Advanced Training and Associate Programmes 2021-2022 open soon.  
The last date for submissions is Sunday 21st February 2021.  
This year due to the coronavirus pandemic, there will be no live preliminary auditions. Initial audition is by application and video submission of our set class.  
We hope to be able to offer recalled students live final auditions in line with the government Covid secure guidelines. This is subject to change. Provisional final audition dates are:  
CAT Final Auditions 2021
Sunday 28 February
Saturday 13 March
Sunday 21 March
Associate Final Auditions 2021
Sunday 28 March
Sunday 18 April
How do I apply? 
If you are eligible to apply for our programmes you will need to submit an application form with video footage and an audition fee. You may be eligible for an audition fee waiver.
Eligibility 
To be eligible for the Associate Programme, you need to be going into year 5 or above in September 2021.  
To be eligible for the Centre for Advanced Training Programme, you need to be going into year 6 or above in September 2021. 
Application form
Please complete the application form available at the bottom of the page. You will be sent a link to access our video audition footage. 
Audition Fee
There is an administration charge of £20 per person and you may be assessed for one or both programmes for this fee.  
Video footage 
We have prepared a set class for you to film for us - available when filling out the application form. Please read our safety disclaimer before attempting the class work. 
Once you have filmed your footage you will need to upload this as one video to a platform such as Dropbox, Google drive, YouTube, Vimeo. We will then require the link to your footage on our application when prompted. 
CAT audition fee waiver
The Academy of Northern Ballet's Centre for Advanced Training (CAT) programme aims to support talented children and young people from all backgrounds to access our training.  
Our waiver works on a means tested basis that follows the CAT grant income brackets set by the Department of Education  

Families on a combined household income of £30,227 or less will be eligible for the fee waiver.  

Parents may be asked to supply evidence of their income to support their application.  

If you would like to apply for the fee waiver, please download and complete the fee waiver application form available here. 
What happens after I apply for a waiver? 
Once we have processed all the waiver applications, you will be emailed your outcome. If successful you will not need to make a payment. Please contact academy@northernballet.com directly for further information. 
When will I find out if I have been successful in my application? 
We will contact you to let you know the outcome of your audition by Monday 8th March. Please note that due to the number of submissions we will receive, this year outcomes may be given on different dates.  
The Application Form will appear here soon.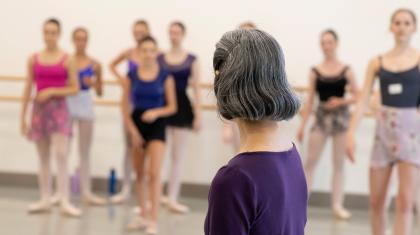 To apply for our vocational training programmes you will need to provide video footage to support your application.
Read more