SHIFT Dance is a collaboration between Northern Ballet, Psico Ballet Maite Leon Foundation (Spain) and Misiconi Dance Company (Netherlands).
Funded by Erasmus+, the project aims to:
Develop new teaching practice for dancers with learning disabilities, Autism or both, underpinned by safe practice
Enabling people to fulfil their potential
Share good practice, initially between collaborators and subsequently to an international audience of dance artists and teachers in community, education and professional settings
Raise the profile and skills of learning disabled dancers across Europe
Input and support from a dance science perspective will be provided by the University of Edinburgh and the University of Leeds will evaluate the impact of the project. This will ensure the new practice developed will be underpinned by academic research.
Method
The project will consist of five residencies with three focusing on sharing practice and devising new approaches to teaching the following technical dance skills with groups including Northern Ballet's Ability:
Strength and alignment
Balance and co-ordination
Elevation and locomotion
Between each residency, activities and approaches will be tried, tested and developed over a ten week period. Each partner will work with their dancers and use monitoring and evaluation tools to measure and chart their progress.
Visit the SHIFT Dance Toolkit to find out more about the project and explore the teaching approaches and activities we developed. 
More from Northern Ballet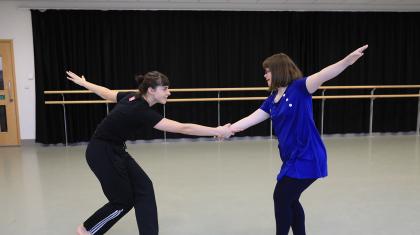 Taster sessions and one off workshops designed specifically for disabled people.
Read more